Quality Health Center design can dramatically improve patient experience. Here we share the key elements and practical applications of Abide Design, the aesthetic framework we use to ensure our patients feel at home in their Health Centers.
The word abide is associated with constancy, trust, safety, and rest. These sentiments encompass exactly what we think a Health Center should be: a place built on commitment and a place to call home. Abide Design centers on the careful balance of design elements that help build the patient-provider relationship. And because we understand that each employer and worksite is unique, these principles allow for scalable and creative application for any space and budget.
Balance Comfort & Sophistication
When patients enter their Health Center, they should feel safe and welcome. Excellent primary care begins with relationships, so we want patients relaxed enough to stay awhile! And while comfort is essential to creating an environment of trust, so is confidence. Spaces should not feel overly familiar or "lived in," but should convey the highest levels of professionalism and clinical expertise.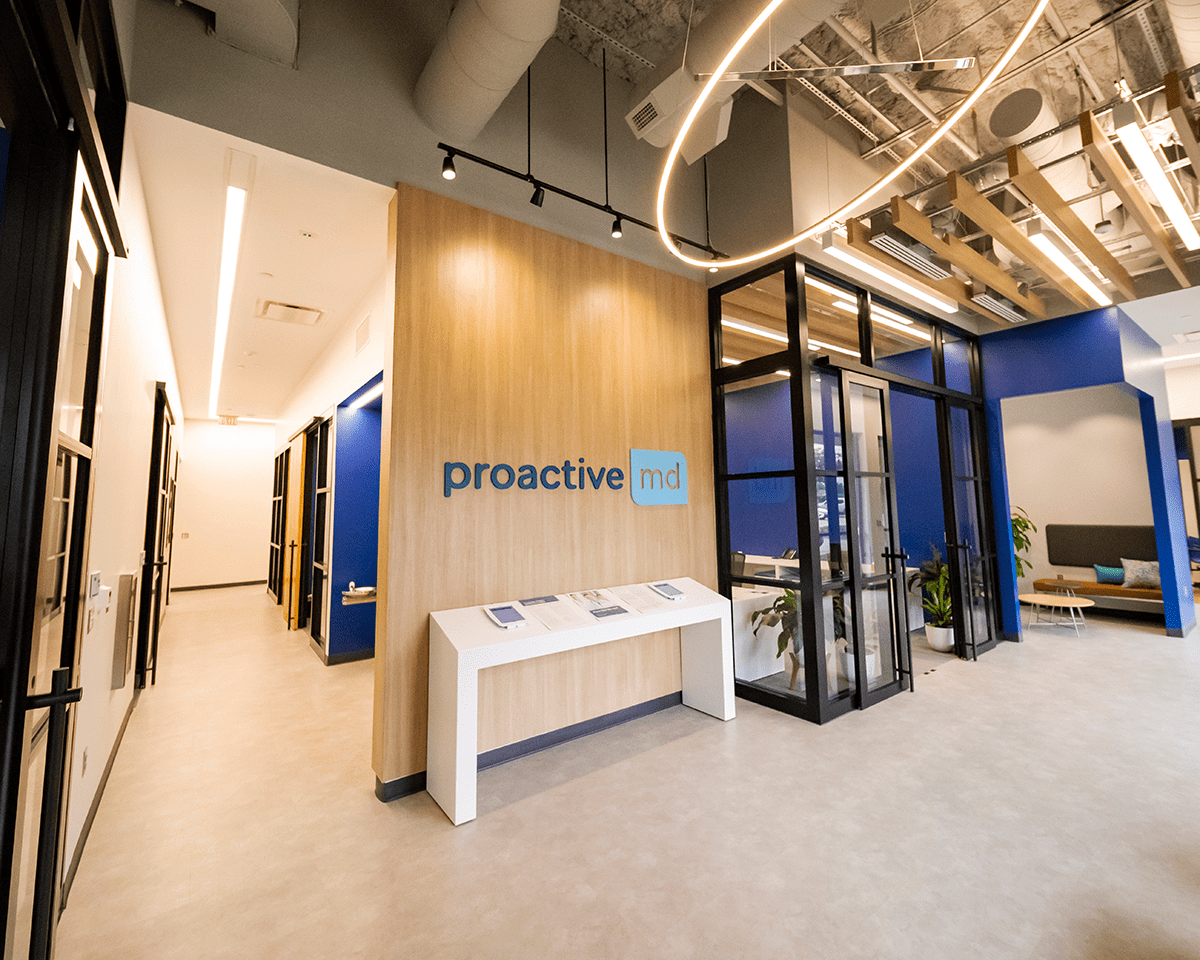 How it's done:
Reimagine the exam room: Exam rooms should feel warm and inviting, not cold and intimidating. We provide comfortable seating areas (couches in larger Health Centers) to create a designated space for conversation so that the focus is on developing a relationship, not just determining a diagnosis.
Make décor modern & mission-focused: Updating artwork can go a long way in creating a welcoming environment. We choose custom-designed artwork that displays our commitment to patients by blending warm, personal imagery with impact statements or narrative.
Create clean lines & spaces: When choosing furniture, select simple, modern designs that are aesthetically pleasing but not distracting. Maintain clean, orderly spaces and organize supplies to maintain professionalism and promote patient trust.
Balance Privacy & Visibility
We believe patients should never feel lost in the healthcare system— so we don't want them wandering around a confusing, compartmentalized doctor's office! At the same time, patient privacy is essential to the provision of healthcare services. Health Centers should be designed so that patients are the immediate and exclusive focal point, while also providing boundaries to protect their privacy.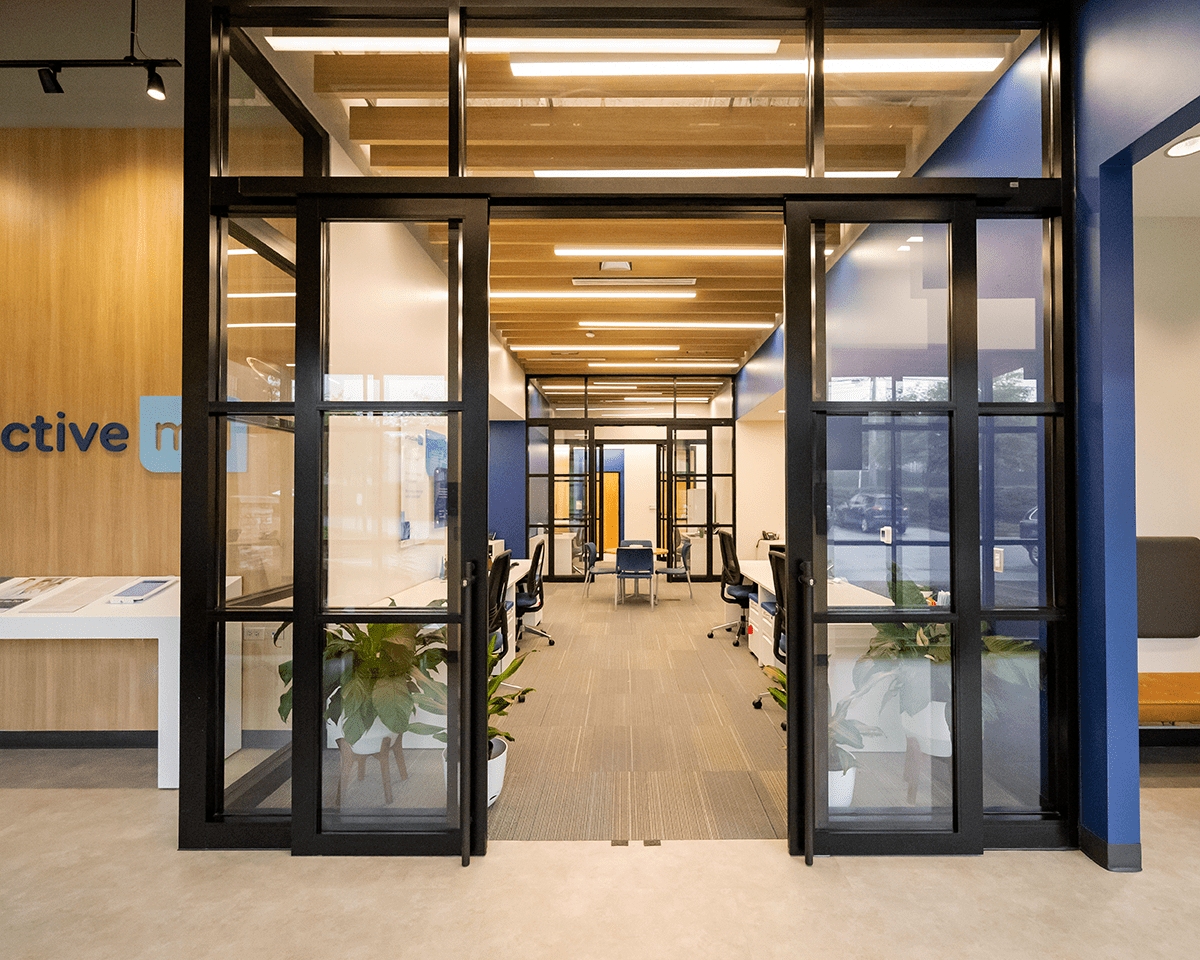 How it's done: 
Use glass generously: The shared spaces in our Health Centers often have full-glass entrances, partitions, and even walls. Not only does it let in light, it also allows us to immediately greet and assist patients.
Open up common spaces: We like our common spaces (break rooms, work areas, learning centers) to be open with tall ceilings. This helps facilitate communal relationships and staff accountability. If opening the floor plan isn't an option, start by just opening the door!
Designate private areas: Exam rooms should always be private—but consider adding other, less-clinical private spaces to help encourage personal communication. We like to use Flex Rooms, and comfortable provider offices work as well.
Balance Stability & Movement
If a Health Center is going to feel like home, it needs to exude permanency and consistency. Patients should feel like they can "plant their feet" when they arrive and know they won't be passed around during their visit. However, this stability cannot limit services: in a broad-scope model where so much is available in one visit (labs, procedures, medication dispensing, counseling, etc.), space created for efficient workflow is essential.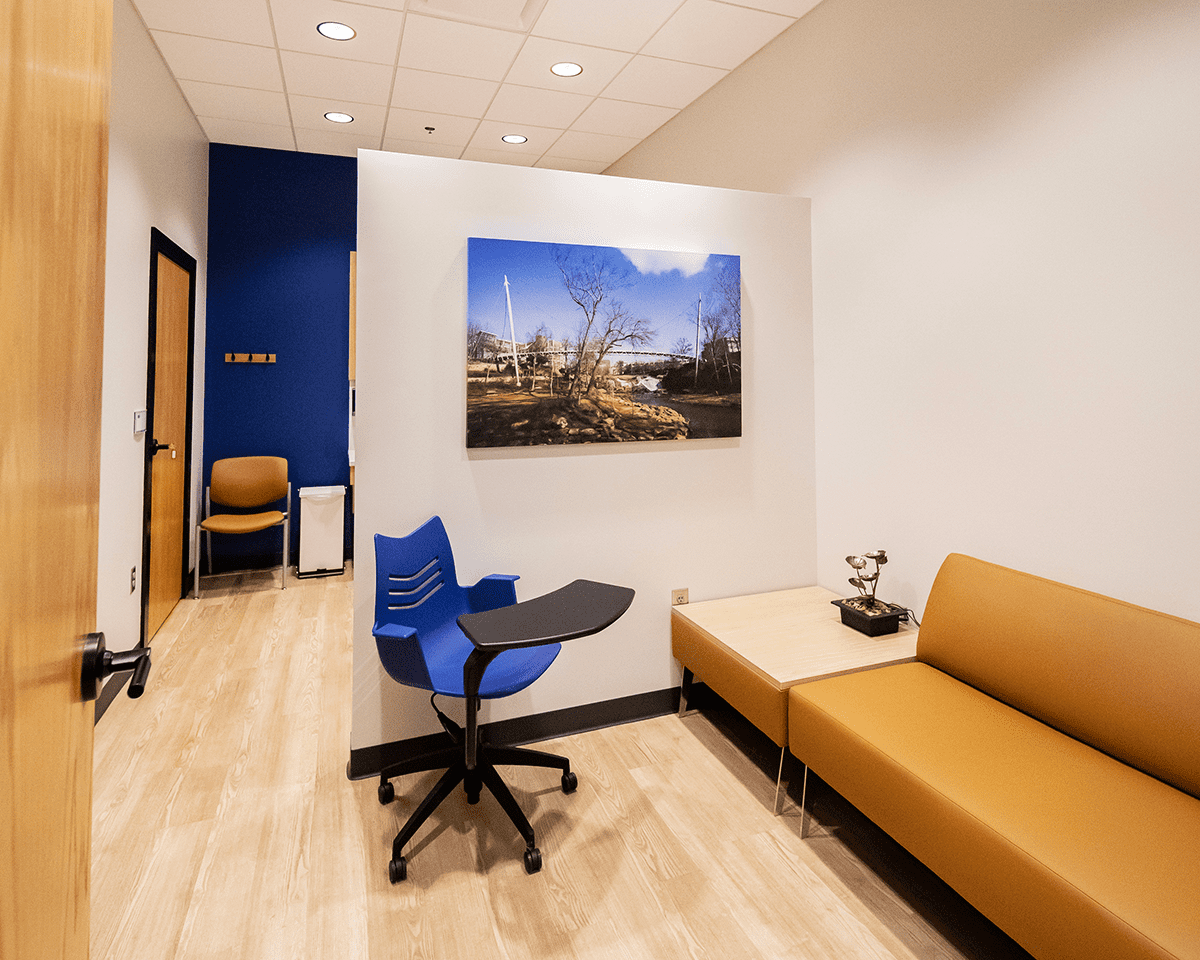 How it's done:
Eliminate the waiting room: We don't want patients waiting around to be seen. Immediately upon arrival, we stand up to greet them at the door and escort them to their exam room.
Prepare a "patient place": Instead of shuffling patients from room to room, create a space where they can settle in and be served. We use the exam room: couches for conversation, TV screens for education and open charting, mobile provider desks for record-keeping, and tables for exams.
Provide mobile staff & supplies: To keep the patient settled, the clinical staff needs to be mobile. Provide them with all the supplies and equipment they need to come directly to the patient place for as many services as possible: paperwork, weight checks, vital signs, lab work, medication dispensing, results review, etc.
Abide Design: Where healthcare meets home.
Health Center design isn't the only thing we're improving. To learn more about elevating the standard of care for your employees, contact Proactive MD.