For Patients
Healthcare That's Right For You
More Than an Onsite Clinic. Comprehensive, Patient-Centered Healthcare.
We make it easy for you to get comprehensive care. As your onsite healthcare clinic, Proactive MD provides you with compassionate primary care physicians and a dedicated care team who can offer guidance and support as you navigate your healthcare journey.
Services
Our Services
Care Beyond the Walls™
Our care team practices broad-scope medicine, so we can treat the whole patient. We take care of a wide range of medical issues, answer your healthcare and billing questions, and help you manage referrals if they are needed. You can come to our Health & Wellness Center for everything from a simple lab test for strep throat to complicated, chronic concerns and know you'll receive the highest quality care.
Our Services include:
---
Chronic Care
---
Comprehensive, connected chronic care is an important part of Proactive MD's Advanced Primary Care model. We help patients manage these conditions and improve their quality of life. When a complex diagnosis requires specialist appointments or surgeries—we also ensure that our patients get the best available care.
High Blood Pressure and Stroke
Diabetes, Hypothyroidism, and Obesity
Coronary Artery Disease and Congestive Heart Failure
Heart Murmurs
High Blood Cholesterol
Rheumatoid Arthritis and Osteoarthritis
Autoimmune Conditions
Chronic Kidney Disease
Seizures and Migraines
Depression
Chronic Obstructive Pulmonary Disease
Asthma
Quitting Smoking
Hepatitis
Fatty Liver Disease
Preventive Care
---
From annual physicals to wellness programs, our clinical team focuses on overall wellbeing and disease prevention. We care for patients beyond the clinic walls, supporting their efforts to lead healthier lives.
Annual Physicals
Annual Flu Shots
Vaccinations
Health Risk Assessments
Wellness Visits
Mammograms
Cancer Screenings (as indicated by age & family history)
Lifestyle Modification (based on risk factors)
Health and Wellness Programs
Acute Care
---
When patients are sick, they can come directly to the onsite Proactive MD Health & Wellness Center for immediate, patient-focused care. We help patients get well more quickly without having to wait weeks or drive across town for an appointment.
Flu
Bronchitis and Pneumonia
Shingles
Viruses
Sinus Infections and Ear Infections
Strep Throat
Stitches
Urinary Tract Infections
Labs and Blood Work
Onsite Medications and Prescriptions (in accordance with local regulations)
Procedures
---
Our clinical team practices broad-scope medicine and is able to perform diagnostic testing, biopsies, EKGs, and other procedures onsite so patients get results quickly. There's no need to wait weeks for a specialist appointment. We're right down the hall.
Skin Biopsies
Stitches
Cryotherapy
Abscess Incision & Drainage
Splints
Blood Tests
EKGs
Diagnostic Testing
Ear Cleaning
Our Why
Patient-Focused Advanced Primary Care
When was the last time your doctor looked you in the eye and really listened to what you had to say? Not only asking about your health concerns but also your family, work life, stresses and community? When you went in for a scheduled appointment and felt the visit was really about you?
If you're like most people, the complex, costly healthcare system makes you feel a little lost and hopeless.
When you do seek care, you spend more time sitting in the waiting room than talking face-to-face with your doctor. And it feels overwhelming to manage multiple providers, figure out how to stay in network, and understand all your care options.
We are here to change all that. 
Putting Patients First
Proactive MD is here to change the way you think about your primary care physician.
Our caring, compassionate healthcare professionals put you at the heart of their practice. They listen to you—coming alongside you both inside and outside the clinic to help you navigate the healthcare system, understand your options, and make the best healthcare decisions.
Approach
Our Approach
We're With You, Wherever Your Journey Takes You.
How Proactive MD Puts Patients First
We believe the family physician is the bedrock of effective medicine—and that comprehensive, connected primary care should be commonplace. What we do goes far beyond our onsite clinics. As your primary healthcare provider, we stay with you every step of the way.
01
Our Approach
Primary Care
It all starts with patient-centered primary care. Our physicians are trained to practice a broad scope of medicine, so they can take care of most of your needs in the convenience of your onsite clinic. More importantly, our physicians prioritize their patient relationships and know how to treat you like a whole person while they're treating your concerns.
02
Our Approach
Health and Wellness
We love to talk to our patients and help them improve their overall health and wellbeing. In fact, each onsite clinic has a dedicated Patient Advocate who is responsible for helping you navigate healthcare and ensuring your satisfaction. Your Patient Advocate will talk to you in-depth about your concerns, help you schedule preferred appointment times, visit you in your home or at the hospital, and find community and medical resources that can make your life less stressful while you're recovering. Through our Patient Advocacy services, we'll also help you figure out how to set and reach your health goals and how to access the care you need.
03
Our Approach
Referrals
We don't refer patients out to specialists and then walk away—we stay with you during your most vulnerable moments. Proactive MD manages referrals for complicated and complex health conditions. When there are complex healthcare needs or surgeries required, our access to the nation's only Smart Care Medical Centers allows us to provide our patients with best-in-class care and better outcomes. What does this mean for you? If you need heart surgery, we'll get you to the best heart surgeon in the country and we'll be there for you when you get back home.
04
Our Approach
Ongoing Guidance and Support
Have a question about your insurance coverage? We'll track down an answer for you. Need to know more about your spouse's recent diagnosis? Having trouble paying for your medications? Come talk to us. Whatever you need, we're here to be your advocate, a source of expertise, a comforting voice, and a listening ear.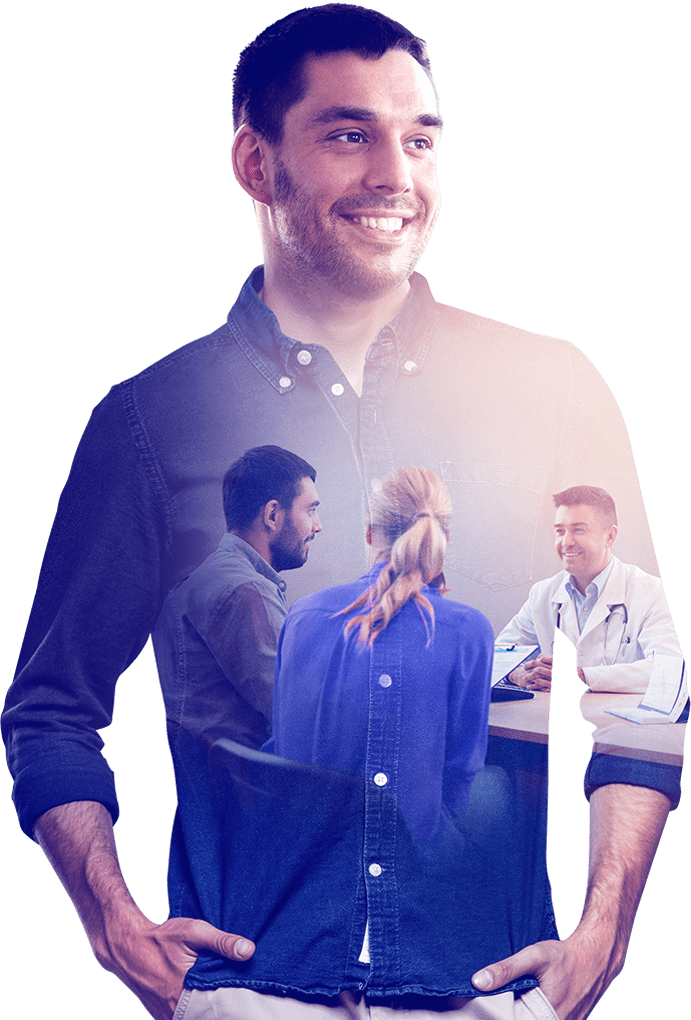 Care Without Compromise™
Our team members will follow-up, visit you in your home or at the hospital, reach out to specialists on your behalf, talk about your life, and discuss your health and wellness goals. Anything you need to be more engaged with your healthcare experience.
This is care without compromise™.
Compassionate Care. Convenient Location.
---
With Proactive MD, concierge-level healthcare is just down the hall. No need to squeeze in a doctor's visit on your lunch break or drive across town to make your appointment.
By providing easily accessible onsite, primary care where you work, and customizing our services to meet your unique needs, we're able to have a profound impact on your overall health and wellbeing.
Less Wait Time

At Proactive MD, our average waiting room time is 5 minutes or less.

Reduced Costs

Our onsite care is part of your employer's benefits, resulting in little to no fees for you and your family. We help patients work within their network and provide access to the highest-quality, most appropriate specialist care at a lower cost.
More Time With Your Doctor

At a Proactive MD office, an average doctor visit is 30 minutes or longer.

Better Overall Health

When health services are comprehensive, connected, and convenient, you're more likely to seek the care you need and improve your wellbeing.
About Proactive MD
Care the way it was always meant to be
We believe every patient deserves the highest quality, Advanced Primary Care possible. See how we're different.