Moving forward with hope.
We have empathized with our communities as we witnessed the negative impacts of COVID-19 all around us. We see the burdens it has placed on families and businesses– sickness, disconnection, and lost income.
But we are hopeful for the future. We anticipate that many will return to the workplace over the next several months, signaling the first steps toward progress and healing. And in the midst of this transition, the employers and employees bravely moving us forward should have confidence that they are doing so in a safe environment where their health is a priority.
Partners in care.
We want to serve those who are bringing restoration to our community. The Proactive MD Re-entry Program will guide and support organizations through this "new normal," helping you lay the groundwork for safely and steadily bringing your employees back to the workplace.
The Proactive MD Re-entry Program is priced at a not-for-profit rate, and the initial site assessment will be a fixed fee. Additional elements are available for customization to best serve your employees. See the following page for detailed descriptions of the available offerings. We look forward to partnering with you in health + care.
Bringing employees back onsite.
Site Assessment
We are committed to providing a resource that will help you to implement a program that will protect both your financial investment and your employees' health. No singular solution will be effective for every employer, and before implementing popular standalone offerings like temperature checks or testing, we want to be sure these services will truly serve you by keeping your employees healthy and your business thriving.
That's why the foundation of our program is a comprehensive Site Assessment designed to provide you with the data-based, multi-disciplinary insight you need to determine the best path forward for your organization. By physically or virtually assessing factors like your worksite and environment, population health, industry distinctions, and operational requirements, we can provide information you can use to determine the best ways to implement the proven infection control measures below. 
Facility Controls

Our expert team of consultants provide a worksite assessment, modifications, testing, and equipment management to assess the likely spread of COVID-19.

Administrative Controls

Every employer is unique. We provide customized policies and process recommendations for you to consider that enhance safety and confidence in the workplace.

Risk Mitigation

We use proprietary, evidence-based software to determine the optimal strategies for providing heightened protection to groups at the highest risk for COVID-19.

Digital Controls

We will provide comprehensive, user-friendly mobile and web-based questionnaires that can track employees' symptoms, physical wellbeing, and mental health.

Primary Care

There's not a one-size-fits all solution when it comes to health. We deliver holistic on-site/virtual primary care and committed patient advocacy to address any wellness concerns your employees may be facing.
We'll provide a comprehensive report detailing these findings and recommendations of the specific services that will best serve you and your employees. Your report will also include business intelligence modeling of the impact of these recommendations— allowing you to see firsthand what infection rates could look like in your organization as a result of implementing a thoughtful return to work strategy.
Consultation
Site Assessment
Medical and operational expertise to design your customized solution.
Collaboration
Recommendations
Rapid identification of the tools to meet your business and healthcare objective.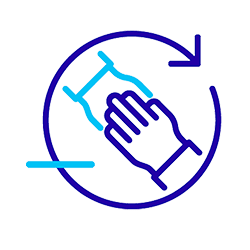 Completion
Partnership
Comprehensive service navigation to bring your workforce back to business.
Service Options
The below services are examples of those that may be highlighted for you to consider implementing for your organization based on the findings from your Site Assessment
Ongoing Risk Modeling and Recommendations
---
Proactive MD will provide ongoing modeling/optimization using our proprietary business intelligence software ARCnet. Our expert-led consulting team will continue to contribute recommendations based on the latest findings, current guidelines, and an employer's needs.
Contact Tracing
---
Trained investigators will identify employees who may have come into contact with a patient diagnosed with COVID-19, collect information about these contacts, and provide recommendations for mitigating the spread.
Primary Care (On-Site and Virtual)
---
Patients will have access to comprehensive, broad-scope primary care from a Proactive MD provider. Proactive MD's care model is built on the foundation of strong physician-patient relationships and compassionate, holistic care that impacts total longterm health outcomes and overall wellbeing.
Medical Management
---
Each and every patient's healthcare journey is unique. Proactive MD's clinical team will propel patients down appropriate pathways– providing lifestyle guidance, referrals to specialists, care navigation, and more.
Patient Advocacy
---
Patient Advocates will be available to talk to employees and provide guidance about any concern: mental, emotional, social, physical, or financial. Patient Advocates will become a trusted resource to address the social determinants of health and ensure patients receive the care they need, when they need it.
Digital Tools
---
COVID-10 Digital Screening Tool & Clinical Response Solution: This tool allows widespread deployment of a COVID-19 symptom screening questionnaire across a workplace and will present users with recommendations for self- isolation and testing, or even connect them directly to a healthcare provider, based on their level of risk.
Health Measures Mobile & Management: This tool allows widespread This tool uses surveys, interactive chat, journals, and data for a holistic view of your employees' mental health and physical wellbeing as the COVID-19 outbreak continues.
Basic Screenings
---
Medically trained staff will provide daily employee temperature and symptom screenings. The temperature will be taken in private and results maintained confidentially. Administering personnel will wear appropriate personal protective equipment, including respiratory protection that is in full compliance with an OSHA respiratory protection program.
COVID-19 Tests
---
Proactive MD can provide a supply of COVID-19 tests. Based on the health needs and risk profile of the population, the type of testing will be determined by our clinical experts. These tests may have market variances in price. The clinical team will administer these tests and provide patients with protective steps based on the results of the test.
Personal Protective Equipment (PPE)
---
Dependent upon availability and necessity, Proactive MD can work to connect you to supplies needed to provide a protective barrier against germs. Supply may include thermometers, cloth masks, hand sanitizer, and gowns.