You've heard the myths about advanced primary care: Is it concierge medicine? Is it just a fancy name for family medicine? What about the promise it can save my business and my employees money? Many of us have spent years settling for the status quo in medicine: no available appointments, long stretches in the waiting room, seven minutes with a doctor who may or may not remember you, all followed by an outrageous co-pay. We deserve better for our loved ones and ourselves.  
But choosing an advanced primary care provider can feel like you're trusting your health to the unknown. Proactive MD wants you to feel confident in the care you can receive. We are an advanced primary care provider delivering affordable, comprehensive care to patients across the country. Today, we are breaking down four myths about advanced primary care so you can make informed decisions about your healthcare.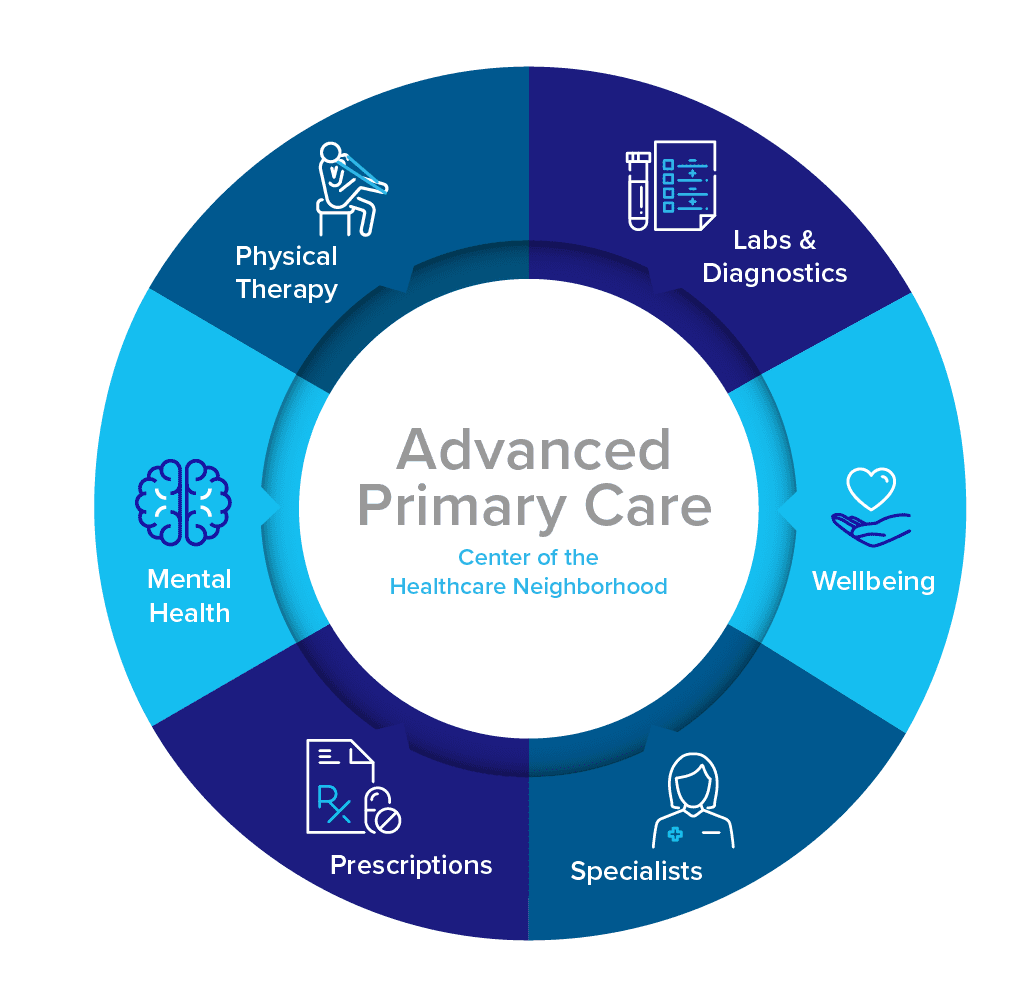 Myth 1: It's more expensive than traditional insurance
A quick Google search will reveal that many people equate concierge medicine and advanced primary care. It's true that advanced primary care mirrors the personalization of concierge medicine. But the myth is that advanced primary care will be very expensive – a luxury that comes in addition to the health insurance your employer provides or you  buy on the market. 
Advanced primary care is actually more affordable than traditional health insurance. It puts you in a relationship where you, your doctor, and your patient advocate work together to address your health care needs. When coupled with a wraparound plan to cover emergency and complex procedures, advanced primary care can actually save you thousands more each year than your current plan alone.
Research shows that, even taking into account the wraparound plan, if patients added up the cost of their insurance premiums, deductibles, and copays, they would learn that Advanced Primary Care is a much more affordable healthcare option.
Furthermore, advanced primary care improves health outcomes, saving patients even more money. A two-year study found that members who engaged with a Proactive MD Health Center actually cost $42 less PMPM than they had at baseline, two years earlier. Meanwhile, those that did not become engaged ended up costing $129 more than they had at baseline.
Ultimately, advanced primary care can be accessed by anyone, as opposed to concierge medicine which is often reserved for the privileged few.
Myth 2: I won't have access to tests, procedures, and services that I need
Traditional insurance models rely on a patient's ability to travel to multiple facilities, relay their medical history to multiple doctors, and take care of a co-pay at each stop. At any point, the burden of the healthcare system can hinder access for a patient.
Advanced primary care actually removes barriers to tests, procedures, and services. It offers a robust array of services, all under one roof. Proactive MD physicians and patient advocates offer labs, prescriptions, procedures, resources, behavioral health, and wellness services. Everything is coordinated by our patient advocate team, the professionals dedicated to getting you the care you truly need. For complex care that is not provided at Health Centers, Proactive MD has partnered with the Edison Healthcare Network. Together, we ensure that patients can access affordable surgeries and treatments from the best hospitals in the world. 
Myth 3: It's not a real form of healthcare
Advanced primary care is compliant when packaged with a high-deductible insurance plan to cover catastrophic services. For those who are concerned with the rising costs of healthcare (including the cost of insurance) advanced primary care provides an alternative.
The model hinges on a low, comprehensive fixed fee that can be paid by an employer or a patient. This means patients can engage with their Proactive MD care team regularly, without worrying about a co-pay for every appointment.
Myth 4: My doctor won't have enough time to see me or my family.
Many new patients may fear that their doctor may not have adequate time to devote to them. However, the reality is that 9 out 10 Americans spent less than 24 minutes with their doctor throughout 2018. That's 24 minutes for physicals, sick visits, prescription assessments, and more. Most primary care physicians are in charge of care for between 2,000 and 5,000 patients.
Independent physicians in an advanced primary care practice spend much more time with each patient. An advanced primary care practice, devoid of insurance, requires less time spent on claims and paperwork and more time spent face-to-face with patients. The Proactive MD model provides much of the logistical support and freedom from the costs of health insurance billing and expensive back-end requirements. 
Patient advocates support engagement as well, reaching out to coordinate care, follow-up on health plans, and support a patient with any other wellbeing items like food assistance or workforce navigation. Patients are encouraged to contact their care team with questions and concerns in between visits as well.
Sources: https://www.firstprimarycare.com/debunking-common-myths-direct-primary-care/https://www.elationhealth.com/direct-care-blog/dpc-myths/https://www.elationhealth.com/direct-care-blog/addressing-myths/